food & drink photography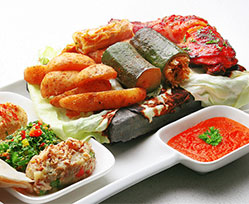 The art of professional food photography is something that has to be developed over the years, where the photographer understands the tricks involved in making the dish appear most appetizing. Food photography offers tremendous scope to the photographer, mainly because of the vibrant colours, textures, styling and presentation. The challenge here is to employ creative food photography techniques to make every dish appear better than it does even in reality! Capturing freshness, crispness, colours etc., are important factors. It gets more interesting and challenging while capturing exotic cuisines and unique dishes. Beverages too form an important part of food photography, where depicting the temperature of the drink – hot drinks, chilled ice drinks etc. becomes essential.
Personally, I enjoy food photography as it gives me a long rope to experiment with various techniques. In this genre I have worked with many restaurants such as Subway, Tuscana Pizzeria, Holy Smoke, Accord Metropolitan etc., as well as packaged food manufacturers such as Aachi Masalas, Elite foods etc. Best food photography goes hand in hand with creative and attractive food styling. In this regard, I have had the opportunity of working with some of best food stylists in the country.
other photographic services